This nautical coloured showpiece uses sea-and-sky colours alongside natural forest imagery – chevron trees and deer – to showcase a cool mix of soft themes.
#1 – NAVY DEER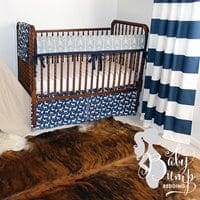 Pastels are in this year, and this is no exception. This nautical coloured showpiece uses sea-and-sky colours alongside natural forest imagery – chevron trees and deer – to showcase a cool mix of soft themes.
#2: CHOO CHOO!
Image via Project Nursery
For the budding conductor, a train-themed nursery will create a railroad of fun. This bedroom showcases a simple scheme of white and green and the trains on the wall and striped ceiling give some immediate colour to the child's line of sight while still looking pretty neat in themselves.
#3: CONTEMPORARY CHILD
Image viaAve Styles
Providing ample room for parents to sit and relax across the room, this nursery provides vibrant colours for a child while still looking like a modern room.
#4: MODERN BOHO
Image via Project Nursery
More soft colours here, contrasting whites with pinks, yellows, and teal for a geometric wonderland complete with play-teepee and changing station. The room itself doesn't have a whole lot in it, but the sheer complexity of patterns against the flat walls make it look alive without looking busy.
#5: GREY IS GOOD
Image via The Bump
Grey is breaking out of the shackles of its drab associations. It's currently working part-time as a neat contrasting soft colour against the traditional pinks and blues of babyhood. We think it's doing a pretty bang-up job, moonlighting away from concrete and porridge, don't you think?
#6: BROOKLYN GARDEN
Image via Domino
Ooh. This room looks gorgeous, and not just because of the beautiful floral wall at the back. This room plays with contrast upon white superbly; clean and natural, textured warmth and bare cool.
#7: CUTESY UNISEX
Image via Uauababy
Both the modern gendered baby colours – blue for boys, pink for girls (although those have historically switched around a lot) – come out to play in this room. We're again seeing grey put to good effect against soft highlights. This room screams personality right down into its cute little face-cloud pillows.
#8: PLUSHY
Image via Uauababy
Another taken from the same collection as number 7, this padded room looks almost surreal, more like a 3D image than a room proper. Everything's soft, rounded, and comfy, including a reclining couch for the parents.
#9: MOUNTAIN RETREAT
Image via Bloglovin'
Murals really are a brilliant way to liven up a simple room. This, in particular, makes good use of layered contrast. The furnishings and bottom of the mural line up in the same dark hues, while the rest of the room gets increasingly light as it reaches the top.
#10: RUSTICO
Image via HGTV
Pine-plank backing adorns this cute rustic nursery. Nice use of natural elements to create texture.
#11: ANIMALS
Image via the Animal Print Shop
A cute little animal snapshot gallery; a veritable photoshop zoo livens up the pale white and yellow accented nursery here.
#12: HARRY POTTER TOT
Image via Project Nursery
Themed bedrooms have always a fantastic look. The case put into this; the colour, the complexity of the mural, even the furnishings of the crib, all capture the fantastical whimsy of Rowling's world. Hopefully this doesn't turn off the kid from HP for life, it's more than enough of a fill.
#13: SOME PINK
Image via The Bump
In case you were getting sick of grey, we've brought in a reminder that warmer colours still work. This uses traditional baby pink to provide a backdrop to still warmer yellows and oranges to provide a cool gradient of increasing colour.
#14: AIR BALLOONS
Another lighter touch on a previous theme. A rainbow cornucopia of hot air balloons flies over a glorious sunrise. Some inspiration for those who want a sunrise motif without the greys and blacks.
#15: PLUSHBACK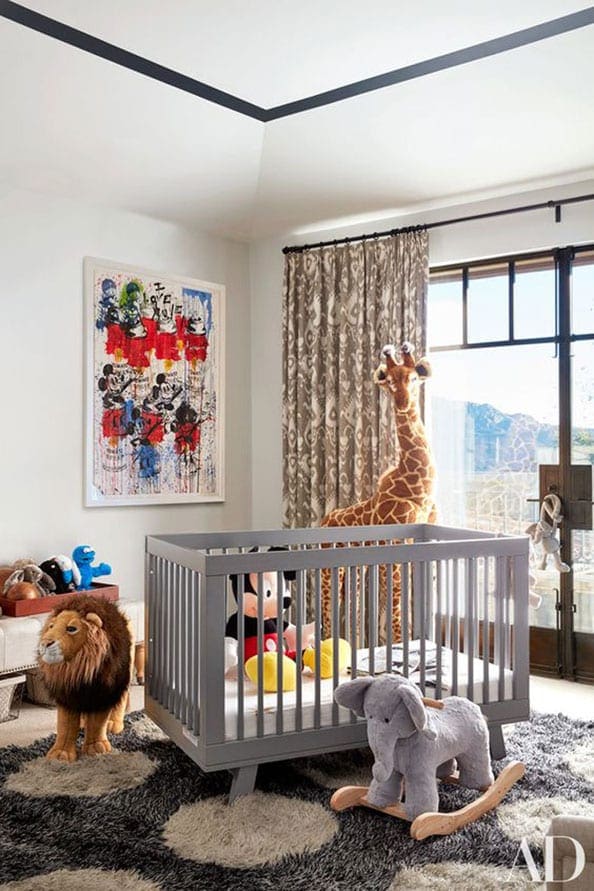 Image via Architectural Digest
Washed out colours provide a backdrop for a posed plush. It's a simple room, but the gargantuan animals give character to the surroundings, giving off a bustling life amidst the soft lights of the nearby window.