A great feature wall takes a lot of work. It needs to be eye-catching, unique, and creative. It has to accentuate the room rather than detract from it, and it's got to look good on top of all that, too. Yikes!
It can be a gargantuan task to put upon any wall and even more on the wall designer.
1. GO SCALEY
Turquoises, blues, and greens provide a nautical backdrop to this bathroom's feature wall, providing a focus along the narrow room with some visible texturing to boot. Substitute the cool colours with some warmer colours, maintaining the scale look, for something much brighter and attention-grabbing.
2. BLUE-WHITE AGATE
Image via Genji Collins on Pinterest
Check out this awesome feature wall made from a natural outcrop of Agate. It may be a little impractical to replicate in everyone's home, but the pattern and design idea behind it sure do serve as inspiration – note the soft blues and occasional highlights interplaying with the otherwise starkly white surroundings.
3. PLAYBOX
Image via BabyGizmo
This one is especially great for families with kids. Dividing up a feature wall into a grid of different pastel colours acts nicely as a great backdrop to any kid's room, and with some additional shelving to boot. Organised and attractive!
4. MONOCHROME
Image via Nous Decor
Nous Decor brings us this accent wall for bringing an elegant white and black contrast to a room. White and black is the simplest contrast, but it matches with lots of decorative styles and colours, and when done correctly it can make a room look elegant and expensive.
5. CORK-BOARDING
Image via Blog Lovin'
A textured feature wall provides double the decorative elements to space; both colour and texture. While they can be in danger of looking over-decorated, you don't have to hang much or have much else to accentuate them — they can do themselves!
This corkboard wall manages to avoid that by looking like a much larger version of a smaller, practical item. Hanging items on the corkboard in an organised way, sticking to the middle-left and keeping them away from the desk is a good trick to keep enough negative space going so as for it to not look cluttered.
6. MINT-GREEN CHEVRONS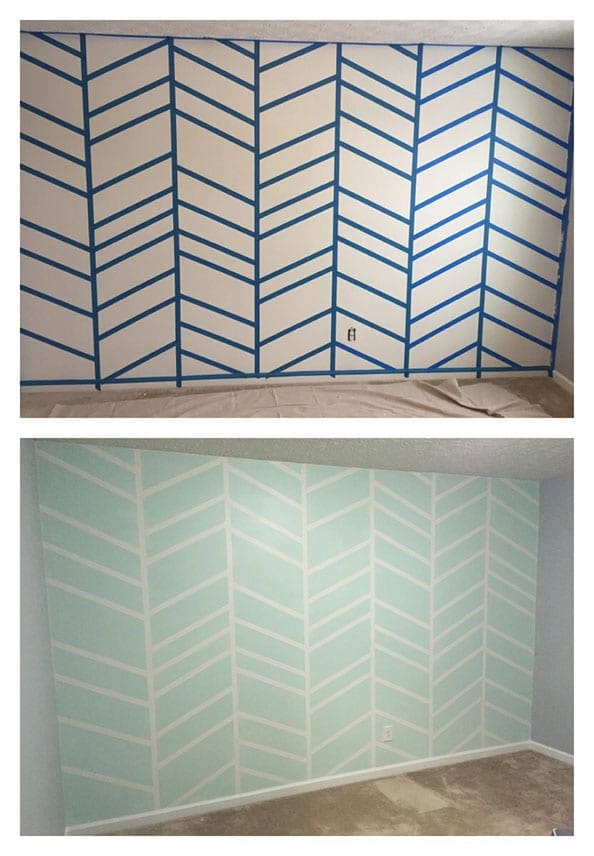 Image via Kate Edwards on Pinterest
Chevrons like this can give a room the illusion of depth, which makes it look larger while also drawing the eye to the design. Painting chevron patterns in a muted colour (like the mint green shown above) also prevents them from coming off too aggressively and holding the eye too well.
7. RECLAIMED WOOD
Image via Interior Collective
Reclaimed wood has been described as bringing a 'homey yet raw feel to space', with rough rustic charm. Reclaimed wood comes packed with visually interesting whorls and knots and in a variety of matching and pleasant colours that are similar enough to not clash, making it almost the perfect material for feature walls.
8. COLOUR WASHING
Image via MyNewsDesk
Colour washing, or painting a wall with watercolours, create a unique look every time that you do it. Some, like the image above, evokes an image of a forest tree-line at dusk or dawn, while others go for sea blues or fire reds. Colour washed walls look best in a well-lit room, but can work against the dark in very specific conditions.
9. COLOUR WASHING (AGAIN!)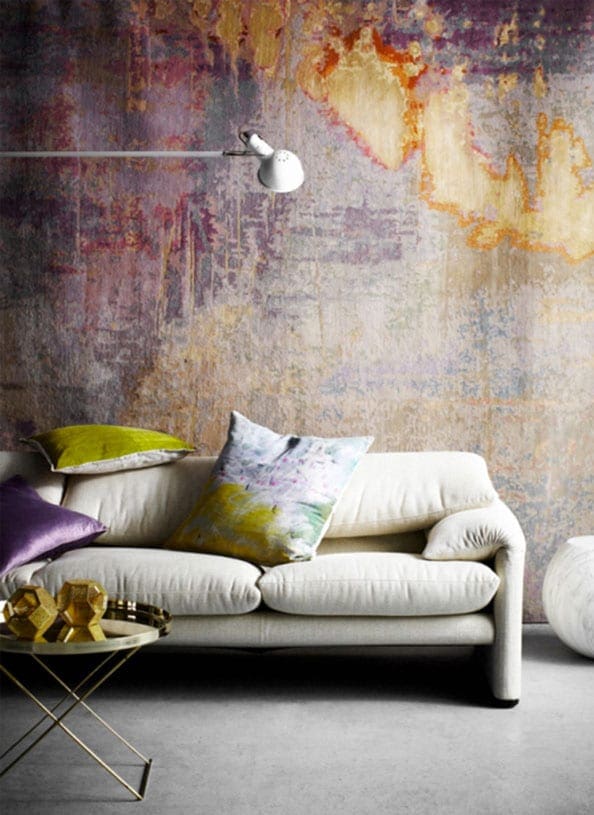 Image via Sfgirlbybay
Colour washing can get a little more artsy, too. This piece works well against the room it's in by contrasting with the light-coloured sofa and floor, but also accentuating the throw pillows.
10. GO SOLID BLACK
Image via Swoonworthy
Black feature walls are somewhat 'in' right now. They work well against a variety of colours (green here, with white, purple, and red highlights) and backdrops. Just be careful where you decide to paint a black wall in Australia, as it is a very heat-retaining colour – choose wisely!
11. SLATE GREY
Image via Residence Style
Just as versatile as the black feature wall is grey. The image above shows a sleek and modern design, with an in-wall fireplace and white sofa to contrast and highlight the wall.
12. PHOTO WALL #1
Image via TheIdeaRoom
Celebrate your family memories by making a feature wall out of all your favourite family photographs. You can take this a step further and use kids' drawings and so on as well.
13. PHOTO WALL #2
Image via TheIdeaRoom
Another idea with a feature wall focused on photos is to use it to showcase art, posters, diplomas, or other accomplishments, drawings or sketches, and just about anything else you can throw into a frame and onto a wall.
14. THE WORLD OF STENCIL DESIGNS, ZEBRA PRINT
Image via Royal Design Studio on Pinterest
Remember when we said that black feature walls (predominantly contrasted with white) were in? Make the most of both worlds with a zebra-print stencil. Easy to apply and easy to get rid of if you decide you don't like it.
15. CRINKLE-CUT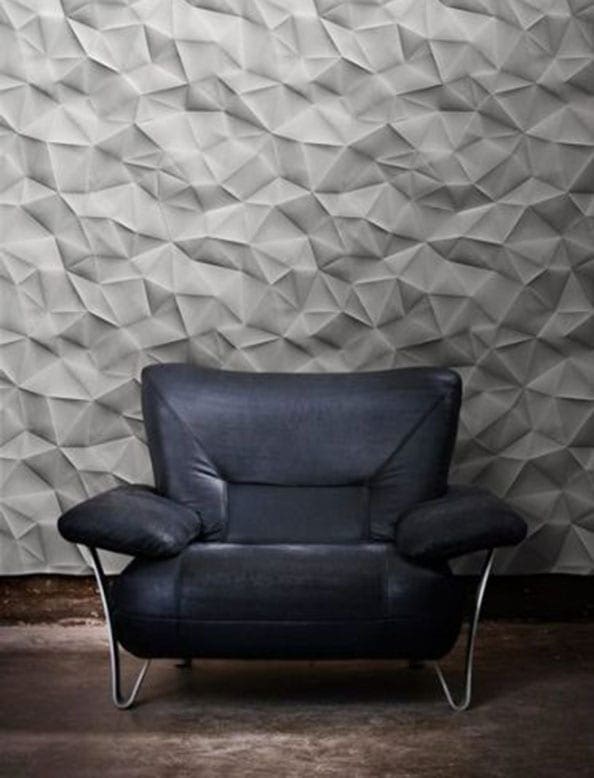 Image via From Up North
The official name of this piece is Interlocking Rock Panels, but personally, it draws the mind more to a crinkled, textured sheet of paper. Whatever your thoughts, it stands out, and is another great way to add texture to a room as well as some extra colour.
16. WORLD MAP
Image via Brit.co
Maps look great, and the best thing about them is their diversity. Need to contrast on black or white? Get an old monochrome map. Contrasting against browns? Sepia tone. Bright and colourful? Map of the world!
17. CHECKERS
Image via Livettes on Etsy
Checkered print can rock a wide range of colours and varieties, but works best with neat, orderly rooms (it is, after all, a bunch of squares). Add a bit of old English charm to your home with this style of the feature wall.
18. RUSTIC
Image via Beauty Harmony Life
If you're going for a rustic look, cobblestone capping on a feature wall gives rooms a quaint, textured, pleasant, countryside feel. It's a bit too tempting to run your hands along it, in fact.
19/ COTTAGE INSPIRED
Image via Brit.co
Why not go for that homely, lived-in British cottage look for those of you who aren't so fond of the modern day sleek designs? The cute design on the wallpaper manages to look pretty good contrasting against the stand-out red of the chairs, too.
20. NIGHT SKY
Image via Lovely etc.
Perfect for a nursery (your choice on the motivational word accompaniment or not). As stunning as the sky mural looks, it's actually quite easy to make yourself. This is great not just for nurseries, but any room where you want to sit and relax.
Ready to build your dream home? View our home designs to see which home is right for you. Or are you a first home buyer in Perth? Learn more about building your first home here, or check if you qualify here.