Taking influence from Australia's landscape and unique biospheres, sustainable gardening can turn dreary, high maintenance backyards into flourishing spaces that practically care for themselves.
What is a sustainable garden?
Sustainable has become a bit of a buzzword. Eco-friendly solutions are great for us and the environment, but how exactly do we know our gardens are sustainable?
Andrew Beck of Sustainable Landscape Design Perth explains that sustainable gardens should "be mainly self-sustaining and planned for the long-term (without) the continual input of large amounts of water, external energy and consumables to survive."
A self sustaining garden draws energy from naturally occurring sources, like rainwater and sunlight, and doesn't require frequent soil or manure.
While the benefits are obvious (less maintenance, cost and labour) actually achieving a sustainable garden means changing the way we think about home landscaping.
Use a certified professional
Sustainable Gardening Australia has begun rolling out a certification program for landscapers that engage in sustainable practice.
Environmentally Certified Landscape Industry Professionals (or ECLIPs) have undertaken the necessary training and show commitment to sustainable garden practices, including:
The use of indigenous plants in gardens
Water tanks and greywater systems for collecting rainwater
Soil recycling
Run off protection
Indigenous plants
For a spectacular and sustainable garden you need only look to Australia's diverse range of natural flora for everything from trees and plants to shrubs and ground cover. There are thousands of species to discover. Many of which look beautiful and require little maintenance, consider:
The Banksia Tree's distinctive candle shaped flowers are one of Australia's best known plants.
Gum trees are an iconic Australian tree that is simple to grow in most climate conditions with moderate watering. For sustainable growing, consider purchasing seedlings from a nursery, as growing from seed or cuttings can be quite difficult.
Our national emblem, the Wattle Tree grows in shade or sun. There are over 1200 species of acacia. Some prefer the coast, while others are at home in our country's dry interior. The Wattle typically grows as a shrub but some grow to tree height.
Feature stonework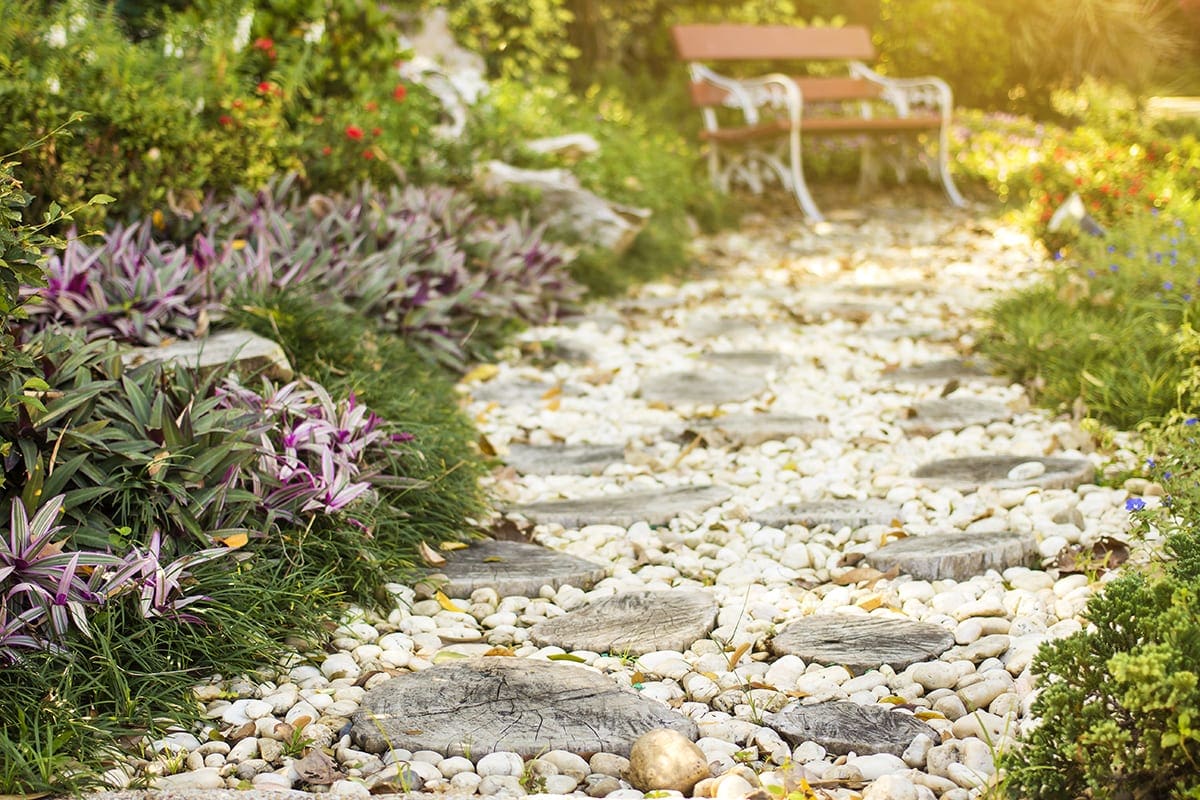 Rocks, stones and pebbles are used in sustainable gardens. Sourced from local quarries, you can use stonework to:
Create staircases and paths
Direct water flow
Supplement garden bends and lawns
Reduce the amount of soil and water required
Rocks and stones are as much as part of the Australian landscape as plants and shrubs. Pavers and pebbles with considerately placed local flora can create clean, livable exterior spaces that are self sustaining code the long term.
Grey water is good water
Rainfall provides more than we can use. A rainwater tank or rainwater collection system helps keep your garden sustainable by storing rainwater for later use, reducing and in some cases eliminating the need to use mains water for your garden.
Your rainwater collection system can be supplemented with:
Subsurface irrigation to reduce moisture loss.
Raingardens and bioswales
Buckets water collection
Simple and elegant rainwater solutions will save money and help you along the path to success
Make your own mulch
Garden waste and byproducts can be recycled to keep your garden healthy mulch can be made from;
Lawn clippings (dry)
Leaves and plant material
Hay and straw
Sawdust
Old wood chips
Compost
Avoid using:
Organic matter exposed to pesticides and toxins
Fresh wood chips (can deprive soil of nitrogen)
Weeds or seedlings
How to apply mulch
Environment NSW recommends applying mulch to a depth of between 5 to 10 centimetres around your plants, leaving stems and trunks with some breathing room. Allow mulch to mature for a few weeks before application, while gravel and stones can be used as ground cover around your plants to reduce evaporation and prevent the growth of weeds.
The benefits of mulch
Mulch doesn't just help your plants grow. It can:
Reduce water loss
Reduce soil erosion
Reduce organic material going into landfill
Improve plant and soil health
Increase the presence of worms and other biological activity.
For best results, combine mulching with other sustainable practices like composting and greywater collection
Composting
Composting lets you turn organic food waste into useful nutrients for your garden. Sustainability wise, it cuts down on the need to purchase soil, manure and mulching materials for your garden, as you'll be creating your own nutrient dense mulch instead.
How to compost
Composting is easy, once you get the hang of it, it's as easy as taking out the garbage.
First, you'll need to find a shady spot in the garden to place your compost heap or bin.
Your compost can be a pile, or you can use a bin. Ideal bins include:

Plastic bins (with or without ventilation).
Metal drums with their bases removed and holes in the sides
Enclosures made from bricks, timber and wire.

Add compost in layers. Ideal ingredients include:

Food scraps
Clippings from your garden
Paper
Eggshells
Teabags
Vacuum dust

Compost requires of ratio of 3:1 'brown' to 'green' matter. Brown is rich in carbon, while green is rich in nitrogen.

'Brown' matter includes: Shredded paper, twigs, leaves and sawdust.
'Green' matter includes: Fruit and vegetables offcuts, leaves, grass clippings

Keep compost moist as it matures, but not wet.
Aerate once a week
It will take about four months for your compost to be ready.
What not to compost
The following materials should never be used in your compost:
Meat, fats and bones
Dairy
Breads and cakes
Pet droppings
Join the sustainability revolution
Sustainability is more than just rocks and rainwater, it's a way of life. Chances are, there's probably many like minded greenthumbs in your neighbourhood. Community garden projects can be a great way to bring people together and share ideas on creating more sustainable habitats and gardens. If you're still not sure where to start, you can always find a gardener local to you to help out. Learn and share with others, and you'll be an expert in no time.