It's one thing to digitise your movie and music collection, but there's something so pleasant about acquiring books over the years. They may take up some space, but the beauty and wisdom of a good book collection is hard to pass up for a faceless tablet. Books provide pleasant and tangible entertainment, not to mention they can often marcate important moments in your life.
One problem that many bookish types encounter is that storing books can be a bit of a bother. Some people positively binge at the bookstore, or have such fantastic collections that it would be a shame to hide them away in storage or a stuffy study. Modern homes are increasingly built on smaller plots as well, which can make moving piles of books in a bit of a chore! Books are precious, and that's why many of us may have amassed a small library over the years.
Even if your collection takes up half the truck on moving day, designing a space for a small library in your home lets you make the most of what you have. There are quite a few gorgeous bookshelves and innovative storage ideas out there for your books. We've compiled some suggestions and inspiration that will give you the best in tasteful modern book storage options. We'll go over the best ways to design the optimum home layout so that you can store, display, and create features of your collection in effective and visually pleasing ways.
HOW TO IMPLEMENT LIBRARIES IN YOUR HOME DESIGN
If you want to create a library in a home you're already living in, consider where the most unutilised spaces are. Nooks behind sofas, wall spaces that stretch to the ceiling – think of how nice it would be to add a splash of colour and ideas to those blank walls!
Assess how many books you have and how much space you'd need to store them all. You want to avoid being caught out halfway through the project with not enough storage space. It's also a good idea to plan for those future additions to your book collection, so be sure to leave some shelf space for new books too.
If you're lucky enough to have a whole room that you can dedicate to your reading materials, you'll want to consider factors like external noise, light, and heating so as to make it as comfy as possible.
If you have a little less space to work with, try vertical book storage. Utilising the space all the way up to the ceiling gives you so much more space to store your books. You can also channel Beauty and the Beast library vibes with a book ladder! Corner storage is another great way to store books without utilising too much space.
If you can, try to add some soft yet ergonomic seating options to make your space a cosy one. When adding furniture it's a good idea to draw out a plan with measurements to ensure everything will fit just so.
HALLWAYS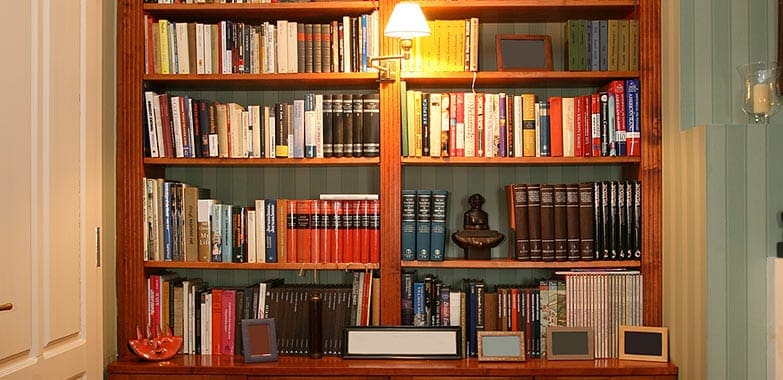 Speaking of empty stretches of walls that need some life, do you have a hallway in your home that's doing nothing practical for you besides connecting between rooms? Lining the walls of corridors with bookshelves – given that they're wide enough to still allow you to pass through – could be a beautiful book storage solution.
LIVING ROOM
Another popular nook for a home library is the space behind your couch or sofa. Often living areas or TV rooms will be able to accommodate a shelf behind the couch, we just always push our furniture too close to the walls! Not only can you reclaim a room in the home for something other than the ubiquitous TV, but choosing a room with comfy chairs and plenty of sunlight makes it a perfect place to curl up with a good book!
BEDROOM
A few shelves over your bed lets you free up some floor space that may currently be stacked with books. Whether above your headboard or on the side of where you sleep, always make sure that you've given yourself enough headspace before going with this option.
If you have a desk in your bedroom but no room for a bookshelf, consider putting up some free standing shelves for more floor space. These shelves are great above the desk for easy access to study materials, as well as being a great storage solution.
BATHROOM
Image via Houzz
While some have a stack of toilet reads next to their porcelain thrones at the ready, in general the bathroom is a very under-utilised room for book storage. But show me someone who says they don't enjoy a read while on the loo or in the bath, and I'll show you a liar. Install some shelves above the sink or on empty walls, and you've got a perfect setup for browsing some books.
STUDY
Thanks, Captain Obvious, I hear you say. Libraries and studies often overlap in the design of book storage as workspaces are ideal environments in which to focus and do some solid reading. Still, a study is worth a mention.
STACKS
We love little piles of books stacked around the house. It's the knowledge equivalent of displaying bowls of fruit, except this time they nourish your brain and not your body. This may not be the most organised of methods, but there's a certain charm to this mad method of squirreling away!
KITCHEN
Most shelf space in the kitchen tends to be reserved for pots, pans, food, and plates. However if you've got wall space or a nook where you can add some shelves, having easy access to your recipe books is a must for all foodies.
HOME LIBRARY CONSTRUCTION TIPS
Ensure that your shelving is sturdy and of good quality. The last thing you want is for bookcases to sag in the middle with the weight of all that paper and knowledge! Your shelving should be hung with the proper anchors and supports into the studs or CMU walls.
Make sure that your shelves are enough to accommodate all your books. Keep in mind that you'll need a shelf with generous room for encyclopaedias, coffee table books, and art books, while novels and paperbacks will demand more economical shelves.
Double check your measurements and the amount of books you need to fit. Don't get lazy as this is crucial to the success of your library! Triple check if you can.
Plan for the future with extra shelf space or generous shelves that allow for double stacking. Make sure that your flooring is up to the task of supporting a library. A big book collection can weigh as much as an elephant, so be sure that you have quality floors that can bear the weight of your collection.
HOW TO ORGANISE YOUR BOOKS
The way in which you choose to organise and arrange your books depends entirely on you as a person. Some people suggest a 'psychological ordering system'. In other words, organising your books in an order that makes sense to you and your psyche. It's all about what you will be able to remember or be able to use when you go looking later. That may be ordering chronologically, by topic, purchase, or acquisition date, or for some people even by spine colour.
If your home library is quite substantial, you may want to consider a more systematic system such as BISAC or the classic Dewey Decimal System. The British Library Association will also systematically order your books for a fee.
There are also a few companies that provide library supplies that help keep your books findable. Consider genre stickers for easier shelf scanning, or sleeves with numbers you can assign yourself.
Below are some of our favourite home libraries, to act as inspiration for your own home. If there's one thing these images prove, it's that gorgeous home libraries come in many shapes and sizes. We hope we've shared some information and suggestions that help you plan a great one in your home!
Below are some of our favourite home libraries, to act as inspiration for your own home. If there's one thing these images prove, it's that gorgeous home libraries come in many shapes and sizes. We hope we've shared some information and suggestions that help you plan a great one in your home!

Scroll through and be inspired
Colour coded stack