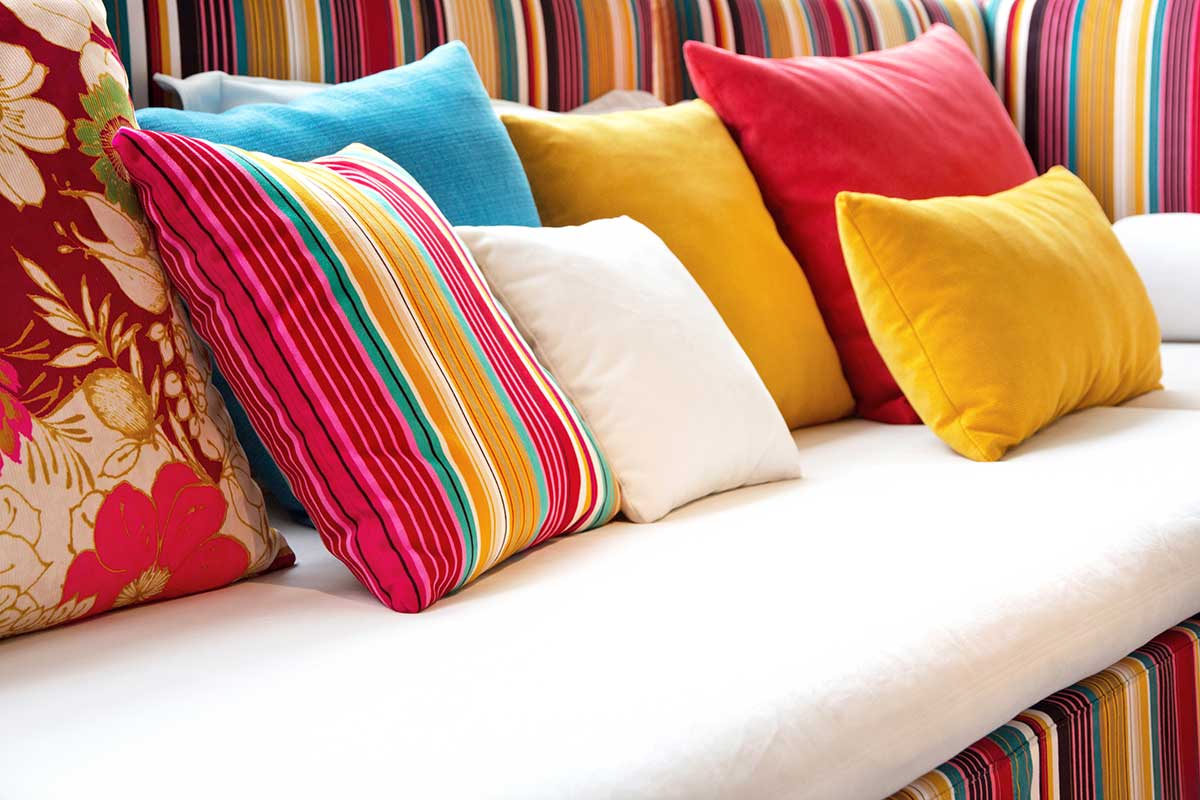 Mixing and layering, colour and shape. Patterns are beautiful and complex things, and you can't just throw them willy-nilly at a room in the hope that one sticks. Patterns require a delicate balance and a knowledge of decoration to pull off.
Luckily, we can help! We've built up a quick shorthand as an introduction to patterns and how to work with them that'll turn your bedroom for a multi-coloured mess into a pad worth talking about.
WHAT MAKES A GOOD PATTERN?
Before we start talking about how to combine patterns to make a room stand out, first we're going to have to cover the basics and terminology of patterns.
PICKING A COLOUR
First off, you're going to want to start with a colour code. Colour denotes everything, from the relative warmth of a room to the mood of the place. Starting with colour will ultimately shape your ideas for shape and function by sheer force of personality, so having a strong foundation to choose from is important.
Enter Colour Theory, and the colour wheel. It's going to be your best friend, treat it well and it'll serve you in kind.
Spend some time getting to know intimately the relationships between colours. Analogous colours (colours that are right next to each other on the colour wheel) provide harmony through similarity, and bring up natural hues, while complimentary colours contrast as opposites. Knowing what works with what is the key to starting off strong.
Play with the colour scheme generator in this link to see how different colours can interact and mix with each other in different ways.
COLOUR CONTEXT
Colour context is the 2nd part of understanding colour. It's basically knowing what situates against what. Putting red against a white backdrop brings out the red, but not as much as putting it against black, and not as vibrantly as against orange, etc.
Don't be afraid to use those analogous colours, too. Just because you have access to the entire colour wheel doesn't mean that blues and whites don't work well with each other. Pick out a few shades of blue and slap it against some white, and it'll work fine. Different shades bring intensity rather than diversity, which is just as good.
Colour logic is complex as can be, but even a rudimentary knowledge of it can heighten your ability to decorate immensely. It's the most important step of patterns, and we haven't even gotten to the patterns yet!
DESIGNS
Geometric shapes work best. If you want a busy pattern (for example, if you're only using repeating patterns in one corner of the room as a feature) then you'll want complex shapes, but a simple tile, dot pattern, or stripe is enough if you're blanketing more of the room.
Take a look at what's in right now on social media. Pinterest is a good starting point, though it's not for every demographic. For example, at the time of writing we can see some black\white complex contrast, some fantastic layered complexity of texture and colour combined throughout the entire wheel, and, of course, a few out-there ones like this egg-yolk wall. The point is that looking for variance where it suits you is key, and there's inspiration to be found all over the place if you're willing to look.
There's no 100% guide on choosing a pattern, however your complexity – as a rule – should come from one source. If you have funky colours that contrast all over the place, try to give the eye a bit of a rest by not also slamming a complex pattern onto it.
In opposition to this, some of the best complex patterns are simple black-and-white repeating.
TEXTURE
Texture runs parallel to design, and it brings an extra layer to your work since items pop off the backdrop and into the eye.
Flatness is also a design choice! Don't be afraid to forgo layered texture completely if it's better for the job at hand.
SCALE
The final thing you need to know about patterns is the scaling. If you have similar patterns, varying scale works amazingly. Pick a pattern of squares, then pick another in a different shade that has squares half that size, and a third half again.
Pick out a scheme that works well with all of these things, and you're good to go. Well, almost, because there's the golden rule to follow first.
THE RULE OF THREES
This one comes up a lot in learning patterns: when choosing patterns, pick three things. Two colours is a contrast, but three is a highlight.
To use a practical example, imagine a packet of Maltesers. The backdrop of the packet is a rich, vibrant red, which works well against the brown chocolate of the chocolate displayed on the packet. However, the thing that completes it is the white logo framed on top, the 'Maltesers' logo itself.
Imagine that packet without one of those colours, and you have the difference between two and three layer patterns.