A home in the country is a mark of luxury aspired to for thousands of years; outwardly a place to escape to in the heat of the summer, but also a beautiful and elegant reminder of coziness by the fire in winter.
Modern country is a fusion blend of simple and clean aesthetics, making heavy use of contrasting, dark, rich wood with light interior walls, and the modern conveniences of a full kitchen juxtaposed with the simplistic and evocative palette of stone countertops.
If you're looking for a modern urban dwelling with all of the trappings of the rustic aesthetic, with or without the presence of the actual countryside, you should put some serious thought into making your new home with a country home design in mind.
What is a Country Home?
One of the hardest things to pin down is what precisely constitutes modern country. Is it flannel, cardigans and leather? Is it an olden-style look among rolling green fields? Is it open plan living to take advantage of the breeze or closed, cozy, and tight-knit to keep in the heat? Even TV renovation shows don't seem to be able to pin it down.
There are a few things that most modern country homes share: Firstly, they emphasise bright colours and white on most non-feature walls, leaving the interior to add colour and heavy contrast against it.
There's good reason for the white palette. It's commonly known that white colours reflect heat, and that black colours absorb more of it; it's why it's considered good advice to get a lighter coloured car, even though theoretically it would show dirt more, instead of everybody driving black cars around in the desert. A country home is one that is meant to deal with the Australian climate, and it's a lot easier to heat a place than it is to cool it.
The classic country home exterior brings to mind a winding cobblestone driveway leading to a handsome country manor home. The classic Australian country homestead would feature wide pergolas and a sturdy tin roof, both of which are still staples of modern country homes.
We've touched upon another facet of country already, but there's a lot of emphasis on natural fabrics and materials. Expect to see stone (if not a stone chimney place!) or wood for countertops, a lot of visible wooden flooring, marble, leather (or pleather), and natural fibres for rugs.
Contemporary country has recently kept open-plan housing at its heart, and while there's an intimacy about the place, there's also a large, communal feel. It's the sort of environment where people can be outside cooking a barbeque, having people come and go between rooms and engaging in family (or friendly) activities.
A Modern Country Estate
Endeavour Homes operates an exciting showcase of large, open country homes suitable for rural properties or those who want a less urban feel to their surroundings. This is in keeping with the design philosophies that underpin modern country housing, on the cutting edge of fashion and technology while preserving an old-country feel.
The biggest mistake people think with country housing is that it must be in some way spartan, lacking in modern conveniences, or less accessible to easy living than an urban-style dwelling. While you're welcome to wash your clothes on a rack and chop your own wood, there's absolutely nothing stopping you from using our state of the art ducted reverse cycle air conditioning unit instead to heat the house.
The main advantage to modern country is, of course, the mixture of in and outdoors that should be afforded to people who want to experience the most of the land around them. They'll commonly feature a kitchen overlooking both the dining and recreation rooms, but also the back veranda, in either a U or L shaped curve. Private areas, such as home theatres, bedrooms and bathroom are closed off, but still ultimately accessible, and lead out to communal areas to promote holistic family gathering.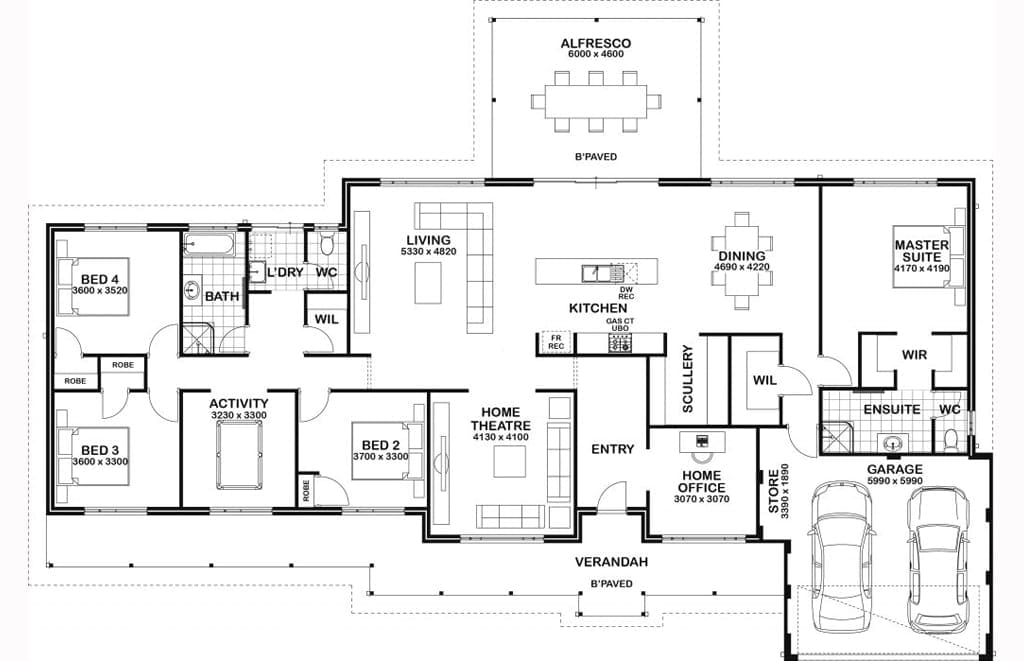 They're also the perfect summer escapes for anybody looking to own a property in the country, away from the pressures of city life. Bright colours, open floors, space for days; the atmosphere creates itself, whether for lounging around on a beautiful summer morning or entertaining a party or small group over dinner on the veranda.
The suite
At Endeavour homes, all of our country plan houses come fully equipped with all that you need to kick back in luxury and take advantage of the great Australian outdoors from a beautiful, secure location. Fully fittable as a guest property, main homestead, or a secondary home on a property, there's endless potential for good country living.
If you're interested in our catalogue, you can contact us by calling (08) 9263 4450 for our multi-award winning interior and exterior design services, or using our online form. If you'd like to talk to us about finding out precisely what kind of home best suits your family's needs, you can also book an absolutely free consultation.