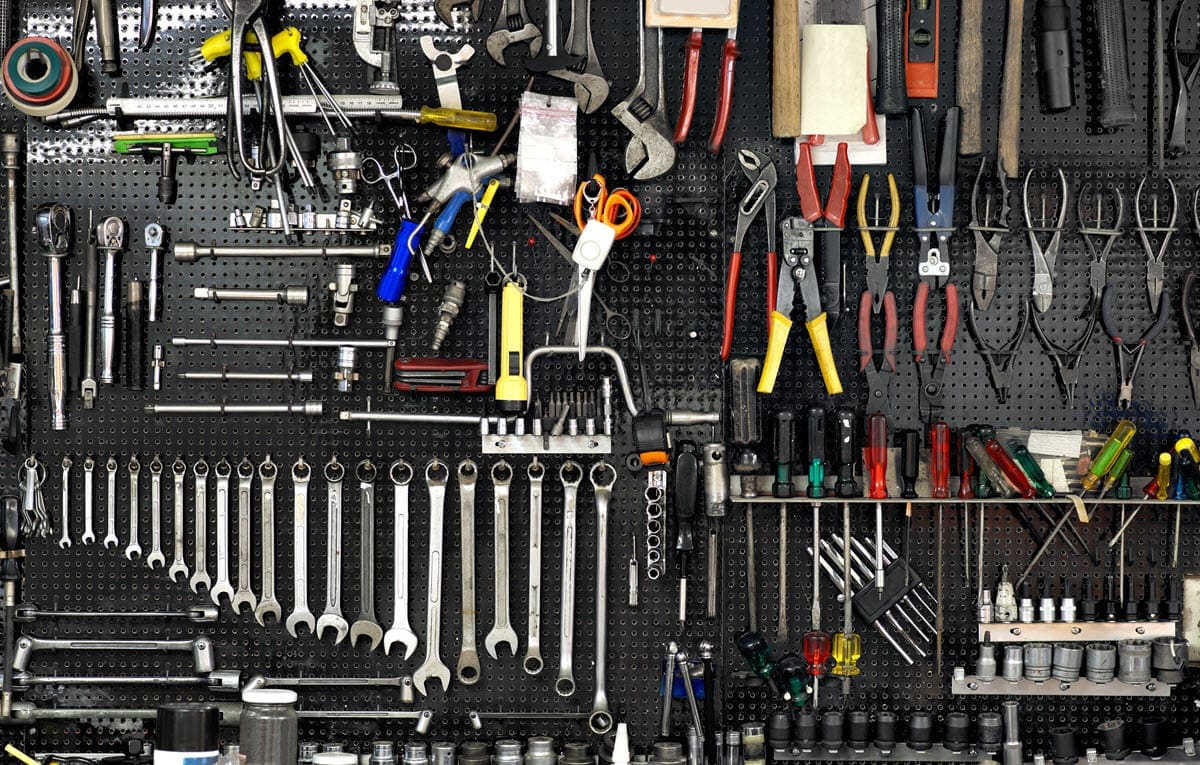 Clever storage solutions are the key to making the most of your shed or garage space, and they don't have to cost you a fortune! With a bit of clever planning, time, and elbow grease, you can restructure your shed into a working and useable space. Whether you're a car enthusiast, home handyman, or just like to tinker with different projects, we're sure to have a storage solution in this article to simplify things in your shed or garage.
So let's get to it.
Pallets are key
A wooden pallet turned up on its side is a great place to store sports equipment, brooms, mops, shovels, and other tools with handles. To keep things standing upright, cut pallet-height pieces of large PVC piping to line the inside of the pallet with, then give the kids the task of painting and decorating it for a bit of extra colour.
Leftover paint tins
Have you got a collection of space-hogging paint tins that have barely anything left in them? Pour the remaining contents into a glass jar – not only do you save space with smaller jars but you can also see exactly what colour you're looking for straight away.
DIY
Anyone can make space-saving shelves for their walls with a few brackets, some wooden slats, and a level. Install one or many, depending on your needs. The best space for shelving is as high as possible! This way you can free up space below for other things (like your car, maybe?)
Utilise corners
If you have a corner that's not really big enough to fit anything, consider building a tower storage shelf to utilise the space. This can be used to store jars, containers, and other such stackable items.
Vertical storage
Store tools vertically underneath the workbench on pegboards that pull out. Simply make 2 square frames the size of the space underneath the bench, line one with a thin sheet of board, then add a piece of trim to the front and back. Measure then cut out corresponding notches in the trim and the top frame for the pegboard to slide in. Attach the plain frame to the top of the bench and the other flat on the floor then slide in the vertical pegboards.
Be inventive
Never underestimate the organisational power of a paper towel rack! These can be used to dispense anything from rubbish bags, rope, twine, netting, and more.
Recycle
Recycle your old glass jars and milo tins in the shed to be used as a storage solution. Nail the lids of the jars to a wooden board so they can be simply screwed into place. Use them to sort all of your nails, screws, bolts, fishing tackle, or other small knick knacks. Tin cans are a great way to store paint brushes, screwdrivers, and other tools with handles.
You can also utilise the space underneath your workbench by recycling old sets of drawes and bedside tables, using them to store any equipment.
Make use of space
If you have a spare wall or space over your workbench, consider lining it with either slats or a sheet of pegboard. Baskets or pegs can then be used to hang many different types of items.
Use wheels
Put wheels on all storage cupboards where possible. This not only makes cleaning much easier but also allows you the freedom to rearrange your shed more often.
Use magnets
Magnetic strips can be easily attached to store numerous types of metal hand tools – screwdrivers, drill bits, scissors, and pliers – whatever sticks to it, really!
Shoe caddies
A cheap hanging shoe caddy is a quick and tidy way to store all your spray paint cans, paint rollers, brushes, and any other accessories. It's also a clever way to store garden supplies like seeds, snail bait, tools, and fertilisers.
Organise drawers
Use dividers, plastic baskets, cutlery trays, or old plastic containers (like ice cream or yoghurt buckets) to line the inside of drawers. This makes it easier to keep items separated and much easier to find.
Tape DIY
Make your own tape dispenser for all your tapes. Simply make a wooden box with a place for each different tape to sit, then attach a hacksaw blade to the top of the box to cut the tape. Remember to keep out of reach of small children!
Lattices
If you have any spare lattice, cut two equal sized triangles and attach to parallel wall beams in your shed to create a horizontal storage solution for leftover PVC piping, trim, curtain rods, and so on.
Make use of beams
Do you have beams overhead? Mount large, matching ceiling brackets to create some suspended shelving. This allows for the storage of long items like ladders, wooden planks, skis, fishing rods, or plastic tubs.
Outdoor garage
Get toddlers bikes out of the shed by making their own outdoor garage. Attach screw-in curtain hooks to the top of the legs of an outdoor table. Thread some outdoor curtain material with some stretchy wire and attach it to the outside of the table, making sure that you leave the opening at the front, and voila! Instant outdoor garage.
Ball basket
We know balls tend to be thrown around the garage and are hard to store in most normal storage spaces. An idea here is to make your own ball basket. Bungee cords stretched vertically in part of a cupboard or shelf are a cheap but effective solution!
Keep it clean
Consider installing a wet area near the doorway for removing wet clothes and muddy boots. Try to include somewhere to sit. A piece of curtain rod with some coat hangers is a great place to leave wet outdoor clothing. A vertical boot rack for muddy shoots can also reduce the amount of dirt being trekked into the house.